Get Signed Up Now!
Our Next JUMPSTART 30 Starts November 1st!
Finally Gain Consistency With Your Self-Care Habits So You Can Feel Strong & Healthy
No Drastic Kitchen Overhaul or Punishing Workouts Required!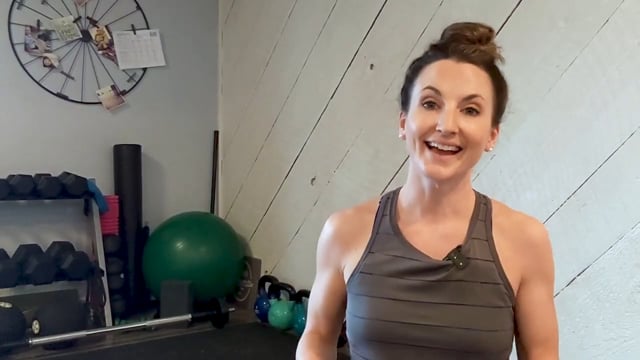 Hurry - Registration Closes on October 28th at 12:00 pm PST!
Jumpstart 30 Is For You If:
You don't know where to start or how to start, but you know you need to do something!
You've struggled to stay consistent with working out and eating healthy
You feel unmotivated and defeated by your lack of progress in the past
You need daily encouragement and guidance to help you make good exercise and eating decisions
You're ready to focus on your victories more than your failures
You want a Christ-Centered approach to your health - no vanity obsession
You've tried other programs but ended up feeling overwhelmed and discouraged 
Most other fitness and nutrition programs throw you into the deep end, with lots of restrictions and high expectations. Instead, with JUMPSTART 30 your hand will be held every day, carefully guiding you through quick & very doable habits.
You'll be amazed at how easily you can create consistency, momentum, and the building blocks for a healthy lifestyle.
No more overwhelm. No more discouragement.
No more unrealistic expectations.
Listen To These Results From Other Moms!
Here's What You'll Get When You Join Today!
30 Follow-Along Exercise Videos
$97
Value
Each day you'll unlock a video walking you through simple exercises that only require you to show up and use your body weight.
NO EQUIPMENT OR PREVIOUS WORKOUT EXPERIENCE NEEDED!
30-day Nutrition Guide
$27
VALUE
It's so important to pair great nutrition habits with exercise and this easy to do 30-Day Jumpstart Nutrition Plan will help you do just that. I'll give you daily guidance on how to pair your nutrition with your workouts.
Daily Tracking Chart
$17
Value
This tracking chart will help you measure your progress and see all that you've accomplished.
Daily Motivational Text Message
$39
VALUE
I'm going to send you a text message each morning to encourage and prompt you to take one small step each day. I'll also ask that you take a picture of your tracking chart at the end of each day and send it to me. We all need some one-on-one accountability and past JUMPSTARTERS love this piece of the program!
Weekly Group Coaching Calls
$297
VALUE
These calls will allow you to get coaching and guidance each week directly from me.
Weekly Video Reflection Check-In
$57
VALUE
I'm going to send you a video at the end of each week (on Sunday) and I'm going to ask that you reply to my video telling me how the week went. This is what I call your weekly check-in and reflection. So often we pass through life and never look back. This is a pivot moment in your week and will help set you up for success moving forward.
Guide To Overcoming Stress Eating/Drinking
$69.95
VALUE
In this guide, I walk with step by step on how to rewire your habits so you don't default to the old way of dealing with stress.
Worksheet for Overcoming Stress Eating/Drinking
$15.95
VALUE
This worksheet will take you through each step that I laid out for you in the Guide To Overcoming Stress Eating/Drinking. I've made this so easy, it's fill in the blank.
Blueprint for How To Enjoy Your Favorite Holiday Foods (guilt free)
$97
VALUE
This Blueprint teaches you my unique system for how you can enjoy your favorite holiday foods with out sabotaging your progress.
Total Value Over ($716)
Today You Only Pay $47
Oh and there's one more thing I think you'll love...
Earn Your JUMPSTART 30 Entry Fee Back!
Say whaaat?!? Oh yeah. The more the merrier, right? I'm including a very special offer just for you…
If you're super excited about starting this 30-Day transformational journey,  then I'm guessing at least 3 of your friends will be too… so once you join the JUMPSTART 30 Program, you'll be able to get a unique share link.
Then, when 3 of your friends join JUMPSTART 30 using your special link, I'll reimburse your entry fee.
That's really great stuff, right?
Ok, so enough talking…it's time to take action and get signed up.
I can't WAIT to get to know you and guide you on this 30-Day journey toward the healthy life you desire!
Meet your Coach, Mentor and the Original Strong Momma!
Megan Dahlman is a Certified Strength & Conditioning Coach and a Certified Nutrition Coach with nearly 15 years of training experience. She has worked with thousands of moms and knows exactly what they want and need to feel successful and strong without feeling overwhelmed.
"As a mom of two boys, I know firsthand the challenges of trying to be a fit mom. I've been there...trying to squeeze a workout in between naps, finding the time to eat a healthy meal, and learning what 'strong' means as a mom.
This program gets me super excited because it's the culmination of years of experience and research. As moms, we usually know what we should be doing for our health, but we just can't quite get motivated to do it or stay motivated long enough to follow through.
With this program, I'm going to hold your hand and push you just enough so you can make real progress without disrupting your life."
"Let me show you how great your body can feel when you simply show up consistently and do a little bit every day!"
The exercise and nutrition tasks start out very basic and easy, giving you instant "wins", and then they build very gradually over 30 days. By the end of 30 days, you will have learned skills and movements that never pushed you too far outside your comfort zone, but just enough to feel and see a noticeable difference in your body. And the best part is if you have a bad day that prevents you from showing up, that's ok! Nobody is perfect. Just wipe the slate clean and pick back up on the current day's tasks.
While there are many programs that involve a "30 day challenge", most of them push you to the extreme from day one. Usually, you'll find yourself barely hanging on for dear life by the end of the challenge, if at all. Instead, JUMPSTART 30 ratchets down the expectations and meets you right where you're at. Each day, you'll be encouraged to do just enough to make a difference, but not so much that you're overwhelmed or feeling extremely "challenged".
Nope! All of the exercises use just your own bodyweight...no equipment needed. And if you can find a space in your house that's about the size of an exercise mat, you're good to go. These workouts can be done virtually anywhere!
No. You may have a history of dieting and food restrictions, and because of that, I want to show you that eating healthy does not have to equal food restrictions. You'll begin by learning how to eat MORE of what's good and healthy for your body, instead of focusing on things that must be removed. It's a complete mindset shift that works and ultimately, leads to freedom with food!
Possibly, but that completely depends on where you're at. You may have experience doing more challenging workouts, but your consistency and dedication is a mess. If that's the case, you would really benefit from easing up the intensity and focusing on just showing up consistently, day after day. The difficulty of your workouts doesn't matter if you're only doing them one week at a time, right? Jumpstart 30 will help get your consistency back so you can finally make real progress.
No, you don't. If you just need someone to tell you what to do each day, you'll do great. But if you've really struggled to stay consistent with your healthy habits, then I highly recommend that you utilize every aspect of this program, especially the accountability tools. The more layers of accountability you have, the more successful you'll be!
Nope, not at all! We've had grandmas, young women, and even dads do Jumpstart 30. Everyone LOVES this program. The best is if you get your friends and family members to join with you!
That depends. If you really struggle to get down on your knees, even with some good cushioning, this may not be for you. But if your doctor has cleared you for exercise and you are careful to modify any exercise that might aggravate that area, then you'll be fine. In fact, many participants experienced a reduction in their painful symptoms because of improved posture and core strength!
Don't Wait Any Longer. Take The First Step Towards A Healthier Life and Join Me On This 30-Day Journey
It's time to solve your consistency & motivation struggles with the JUMPSTART 30 program!
Come walk hand-in-hand with me from...September 6th through October 5th.
I know it feels scary and you might be afraid this won't work for you. It's normal to feel that way when you start something new...something you've never done before.
But I've already walked alongside other moms just like you and have seen them experience incredible results with this program.
And now it's your turn. But remember, you'll never be alone. We're going to do this together, from day 1 to day 30. Just follow the simple daily guidelines I send you and start watching your progress.
So what's holding you back? Take this small step now to join me!
Start your journey to being the strong, confident, and healthy mom you know you want to be.